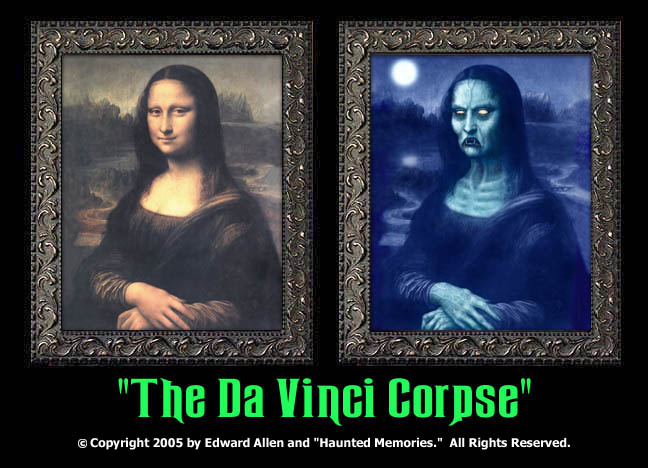 This is obviously based on the Mona Lisa, one of the world's most famous paintings by
the Renaissance master Leonard Da Vinci. The title is a parody of the best-selling novel
"The Da Vinci Code," in which the Mona Lisa is prominently featured.
This portrait presented an extra challenge for me, as I had to turn it from a daylight scene into nighttime. But it was a lot of fun to do and I think it turned out quite nicely - and it maintains FULL COLOR throughout the transformation! It took a few hours to get the hands just right, but they are one of my favorite details of this piece!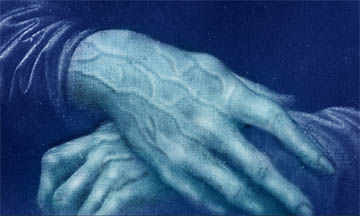 Of course I want to give proper credit to the original artist, Leonardo Da Vinci, whose masterful strokes provided the source image for my admittedly twisted version. She is proving to be one of my most popular pieces to date!

---
You can purchase this item on-line by using the convenient buttons below
or you can send me a check or money order via snail-mail (Click Here for details!)
5x7 OPTIONS


11x14 OPTIONS

16x20 OPTIONS
"The Da Vinci Corpse" is not yet available as a 16" x 20" changing portrait.
18X24 OPTIONS
The 18" x 24" size was limited to 50 pieces and only 30 ended up being produced and sold. THERE WILL BE NO MORE OF THIS SIZE PRODUCED, so please do not ask about it.
Congratulations to those of you who purchased early - you've got quite a rarity on your hands (even I don't have one! - Eddie Allen)